Main content starts here, tab to start navigating
Urban Prime Wine Club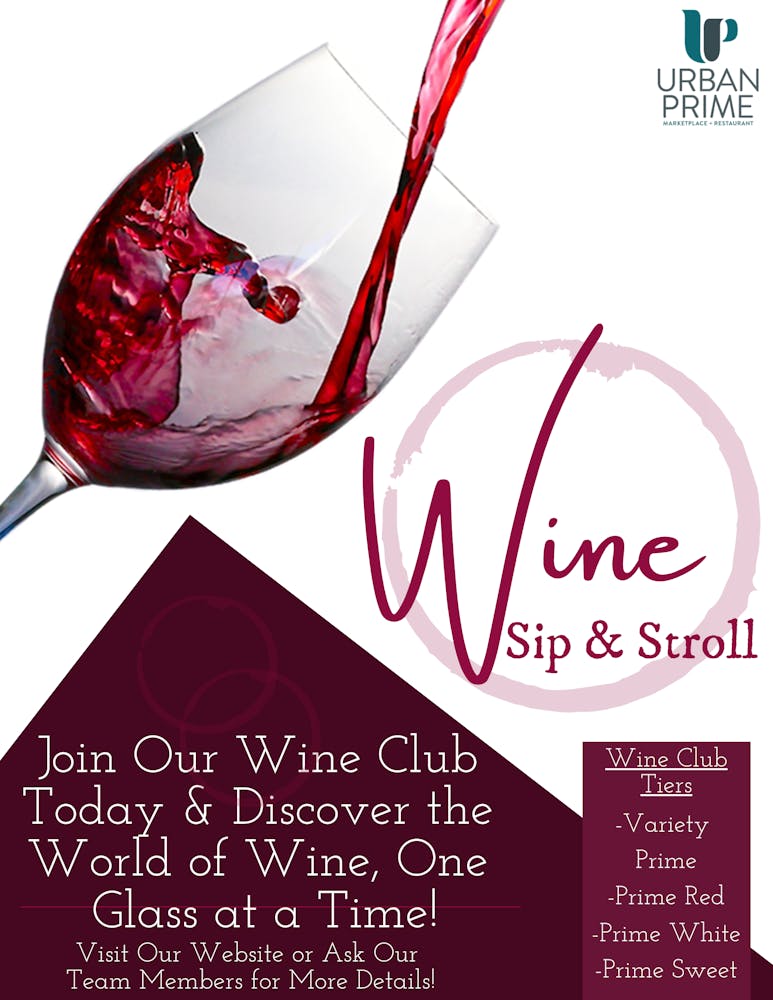 Slide 1 of 12
Slide 2 of 12
Slide 3 of 12
Slide 4 of 12
Slide 5 of 12
Slide 6 of 12
Slide 7 of 12
Slide 8 of 12
Slide 9 of 12
Slide 10 of 12
Slide 11 of 12
Slide 12 of 12
Membership Types Special Events Inquire Now
Our Urban Prime Wine Club was created to celebrate community, and to toast to our shared love of food, fine wine, and great company. Urban Prime Wine Club members will receive exclusive offers and are invited to our monthly wine club gatherings. These extraordinary events are uniquely themed and inspired by the season, recipes, current art and cultural experiences. Paired with Urban Prime wines, each gathering is crafted by our sommeliers and executive chefs, specifically for this members-only event.
Join our Urban Prime Wine Club today and experience the knowledge of the artisans, as they present wines that are sure to delight your palate.
Email us at: wine@urbanprimefoods.com
Benefits
Benefit
1 Bottle

2 Bottles

3 Bottles


Exclusive Prime
Wine of the Month
✓

✓

✓


Prime Retail Wine Discounts*
5% Off on 1 - 5 Bottles


15% Off on 6 - 12 Bottles

✓

✓





✓




Invite For Two to Our Monthly Wine Club Event - A Complimentary Experience
( 7 - 8 Wines, a $20 value )



X




X



✓

Collector's Club
10% for 1-5 Bottles
20% for 6-12 Bottles
$10 Enomatic Card

X
X
✓


Gift Memberships
Urban Prime Wine Club Memberships, make a great gift for family, friends, loved ones, or corporate gifts. Gift Memberships are available in 3, 6, or 12 month periods.
Urban Prime Wine Club Pricing
Urban Prime Wine Club is designed exclusively for our members who love to explore, share and pair new wines with great food, gourmet artisan cheese, handcrafted charcuterie, and memorable moments.
Our club bring together a community of friends and neighbors, who have a thirst for a life well lived.
Join the Urban Prime Wine Club and explore the world of wine, one glass at a time!
Monthly Pick-Up Option
Monthly pricing is listed below. Memberships are month to month, and you are able to pause, or cancel at any time:
| | | | |
| --- | --- | --- | --- |
| MEMBERSHIP TYPE | 1 Bottle | 2 Bottles | 3 Bottles* |
| Variety Prime Choice Plus Cheese, Charcuterie, Artisan Baguette | $39.99 | $69.99 | $149.00* |
| Prime Red Plus Cheese, Charcuterie, Artisan Baguette | $39.99 | $69.99 | $149.00* |
| Prime White Plus Cheese, Charcuterie, Artisan Baguette | $39.99 | $69.99 | $149.00* |
| Prime Sweet Plus Cheese, Charcuterie, Artisan Baguette | $36.99 | $64.99 | $140.00* |
Collector's Club
1-3 bottles a Month Plus Cheese, Charcuterie, Artisan Baguette
$10 Enomatic Card

X
X
$250.00

Slide 1 of 3
Slide 2 of 3
Slide 3 of 3